Monsoon's withdrawal: Its uneven temporal and spatial spread over season has contributed to elevated rice prices
The southwest monsoon is retreating after providing normal rainfall for the fifth successive year in line with the forecast of the India Meteorological Department. But its uneven and spatial spread from June to September is leaving in its trail elevated cereal prices, especially of rice. This is a concern for the government ahead of crucial state and national elections. There was a delayed onset this year that contributed to a deficiency in June, followed by surplus rainfall in July, a dry August and good rains so far in September. The monsoon has a crucial bearing on sowing operations for crops like paddy, coarse cereals, oilseeds, cotton and sugarcane during the kharif or summer season. While kharif sowing operations have been completed and are higher than a year ago, the deficiency of rainfall was higher in the paddy growing parts of the country like eastern UP, Bihar, Gangetic West Bengal and Jharkhand till end-July. This area received good rains during August-September.
During the remainder of September, rainfall is expected to be good in the central and southern regions, which will improve the sown area under paddy in Karnataka, Tamilnadu, Andhra Pradesh and Odisha. The proximate causes for the double-digit rice inflation are concerns over the paddy crop and low rice stocks with the Food Corporation of India. The persisting cereal inflation is expected to exert upward pressure on consumer price inflation. To cool rice inflation, the response of the government has been straight out of the dirigiste playbook of the 1960s and 1970s to impose export bans, hike duties, etc, which are not efficacious. Last September, there was a ban on broken rice, which was accompanied by a 20% duty levied on other non-parboiled non-basmati shipments. In July, concerns over rice production led to a ban on non-basmati rice exports.  In August, this extended to parboiled rice and moves to fix a minimum export price for basmati rice shipments.  India of course is not the only country to resort to such export restrictions especially after the Ukraine war in February 2022 which unleashed a full-blown global food crisis that impacts the Global South.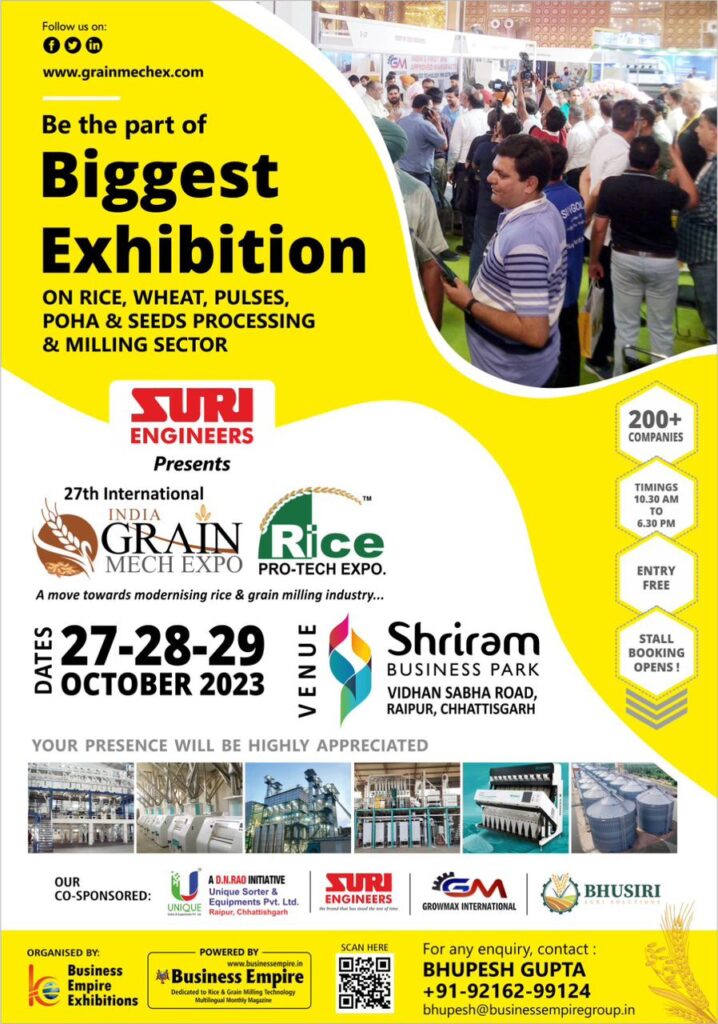 As India is a major exporter of rice, accounting for 40% of global shipments, the export ban removed 10 mt from a tight market, resulting in a spike in global prices. The government's efforts to control domestic prices through e-auction under the open market sales scheme have not borne fruit as traders have reportedly shown hesitancy in buying fortified rice which is mainly distributed through the public distribution system. As rice inflation is currently ruling at 12.5%, these measures obviously have not worked. A feasible option to tame cereal inflation is to allow imports that will improve domestic availability ahead of the forthcoming national elections.
As the monsoon affects the agricultural sector, it is necessary to improve the forecasting of its progress during the season. While there is no doubt an improvement in IMD's predictions, accuracy is not high at a location-specific level, especially the extent of deficiency in key rice growing states of Uttar Pradesh, Bihar, Jharkhand and West Bengal. The government, for its part, has initiated consultations with stakeholders to enhance the use of technologies for better crop yield estimation to fashion a timely policy response if there are supply shortages. The larger moral of the story is to encourage a shift away from water-intensive crops like paddy.
This article has been republished from The Financial Express